Location Map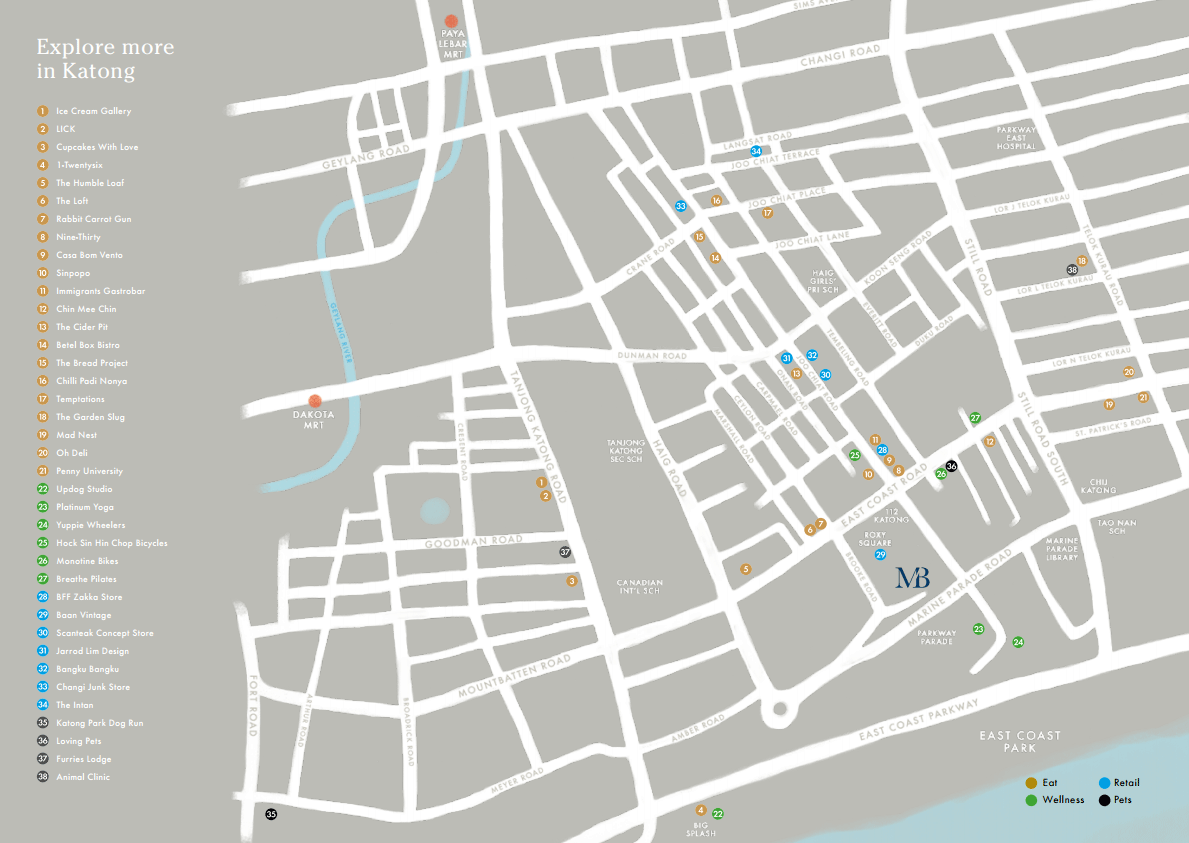 In good company
With its rich multi-ethnic heritage and inspiring creative vibe, the East Coast of Singapore has become a highly sought after neighbourhood for trendsetting and jetsetting individuals. Many, who have spent their childhood in this area, cannot fathom living elsewhere on the island. And why would they, when the precinct continues to evolve with an eclectic, infectious personality that is both old world and cosmopolitan, down-to-earth and yet pulsating with energy. Here, contemporary bistros, traditional eateries, pet shops, yoga studios and lifestyle boutiques share the same fivefoot walkway that is distinctive of the conservation shophouses they reside in. As Katong's unique appeal continues to charm old and new residents, you will always be in good company from your home here at Marine Blue.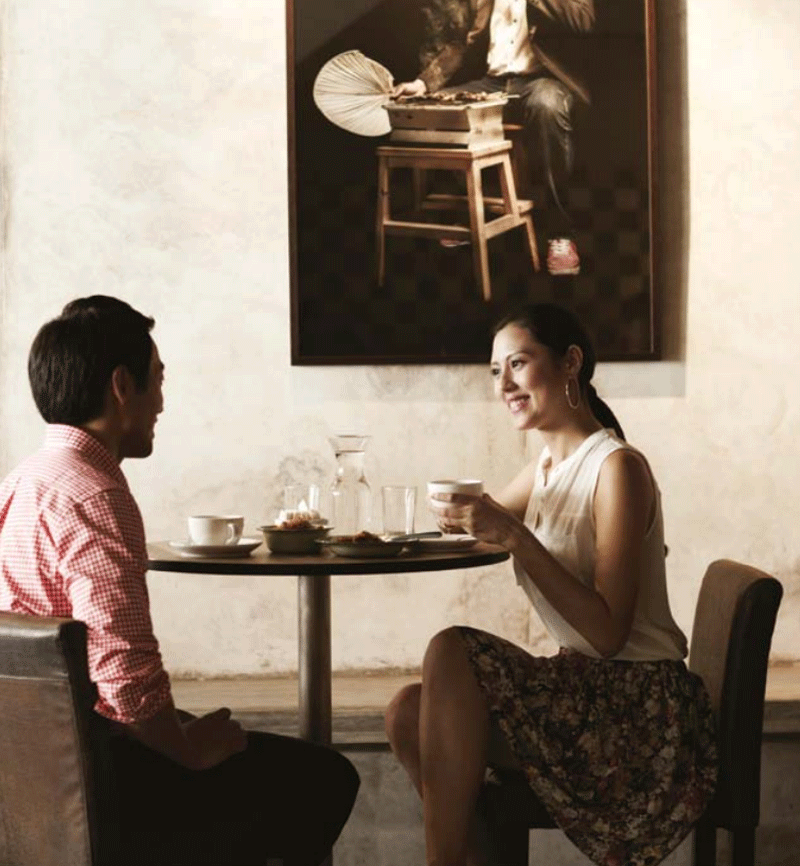 ---
East side stories
Katong's culture and vibrance is reflected in its architecture bearing rich evidence of the area's multi-ethnic heritage, particularly that of Peranakan and Eurasian influences. Once occupied by villages, country houses and seaside bungalows owned by the wealthy, the area's famous Peranakan-style pre-war conservation shophouses were originally built in the early 1900s. Contrasting ornate facades against the clean geometry of art deco buildings and now adding the contemporary silhouettes of sleek condominiums into the mix, Katong's ambience is interestingly quaint, alluringly relaxed and stylishly chic, all at the same time.
---
Good taste, quaint living
Just as eclectic as the architectural styles are the array of lifestyle and furnishing speciality stores that are a delight to explore. From quaint antiques to vintage finds, colourful ethnic pieces and Scandinavian inspired designs, take your time to browse around over the weekends and fill your home with carefully handpicked objects of desire.
---
Breakfast at the neighbours'
Fabulous and famous, the legendary food outlets in Katong need no further introduction. Many are located within a stone's throw from Marine Blue. While local favourites like Chin Mee Chin Confectionery, Katong Laksa and Kim Choo Kueh Chang are solid bets for comfort eats, new concept eateries like Rabbit Carrot Gun, Immigrants Gastrobar and Sinpopo keep the dining mood fresh, fun and flavourful. From lattes to linguine, wanton mee to wagyu steaks, craft beers on tap or single malt whiskey on the rocks, whether it's fine dining or casual chilling from day to night, there's something here for every palate and mood.
---
A breeze to explore
Located across from Parkway Parade, Marine Blue puts you right in the heart of Katong. A mature estate, the area is well served by an efficient network of public transport plying a variety of routes to other parts of Singapore. By 2020, an MRT station planned for Marine Parade on the Eastern Region Line will make it even easier to commute between Marina Bay and East Coast, through to Changi. Driving to the Central Business District, Changi International Airport and Changi Business Park is a mere 15-minute commute via the East Coast Expressway. And because everything you need is so conveniently within reach, simply hop on a bicycle or take a leisurely stroll to your favourite café, grocery store, pilates lesson or East Coast Park.
---
A natural pace of living
Here in Katong, a healthy lifestyle comes naturally when you have almost doorstep access to yoga and pilates studios, gyms and a dog run at Katong Park where you and your pet can play frisbee and run free. Jogging tracks and cycling trails lead you straight to East Coast Park where you can readily embrace the wonders of nature at any time of the day.