Site Plan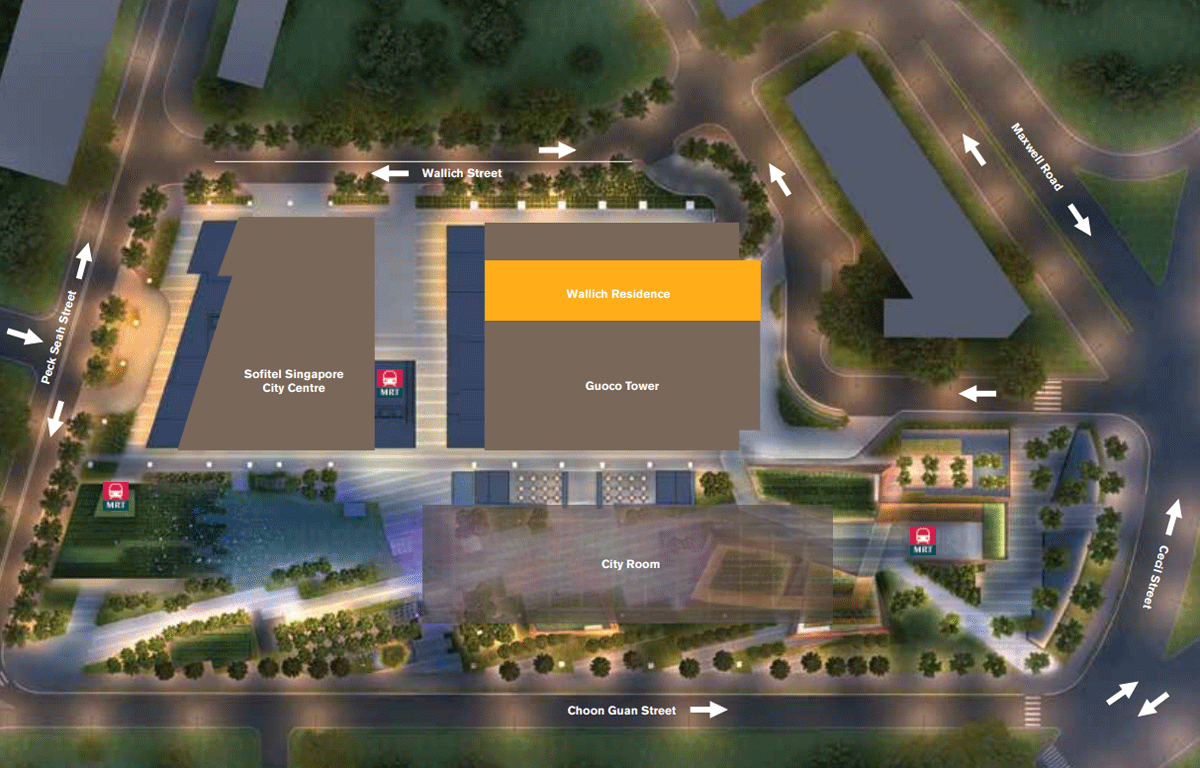 ---
Tanjong Pagar Centre - a vertical city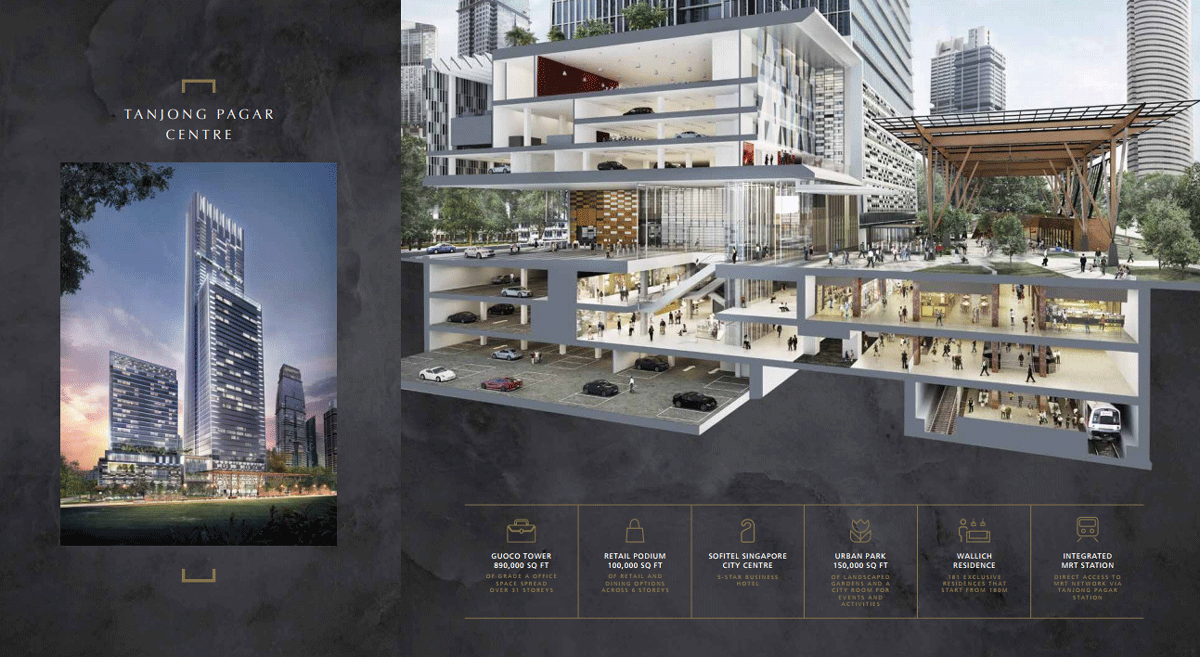 Wallich Residence sits at the pinnacle of Tanjong Pagar Centre, an ambitious vertical city that will be the focal point of the Tanjong Pagar precinct. An integrated development, it houses Grade A offices, a 5-star business hotel, an extensive variety of retail and F&B options, and a lush urban park.
The urban park provides easy access to Singapore's expanding network of green spaces and park connectors, while visitors can also enjoy F&B outlets found within. Integrated with the park is a 32,000 sq ft civic space that is designed to be a focal point for gatherings and recreation, or as a venue for exhibitions and events.
The landmark development for the area, Tanjong Pagar Centre will be the new heartbeat of the CBD. With its dynamic mix of commercial, retail and residential elements, Tanjong Pagar Centr e will transform the area into a vibrant centre of the CBD.
---
A world of possibilities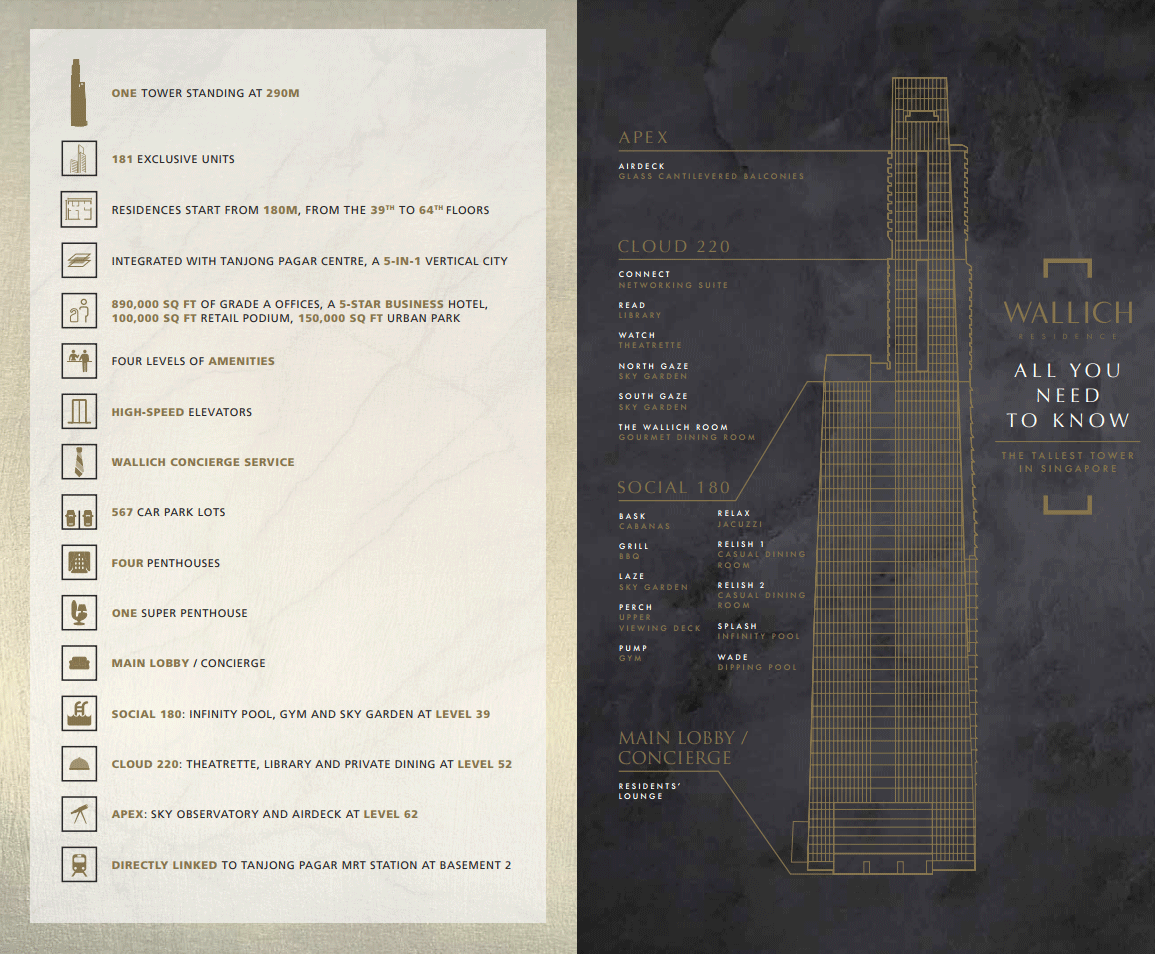 Located from the 39th to 64th floors, Wallich Residence is Singapore's tallest residential development. It houses 181 exclusive residences, consisting of 1-4 bedroom units, four Penthouses and one Super Penthouse. Each home is impeccably finished with top-of-the-line materials and fittings, a reflection of the distinctive aesthetics that Wallich Residence offers.
With four levels of amenities, from the hotel-inspired Wallich Concierge Service and the stunning infinity pool at level 39, to the private library on level 52 and breathtaking observation platforms on level 62, Wallich Residence is a tower that stands apart. Not just by its sheer height, but also by the quality of the life one experiences here.
---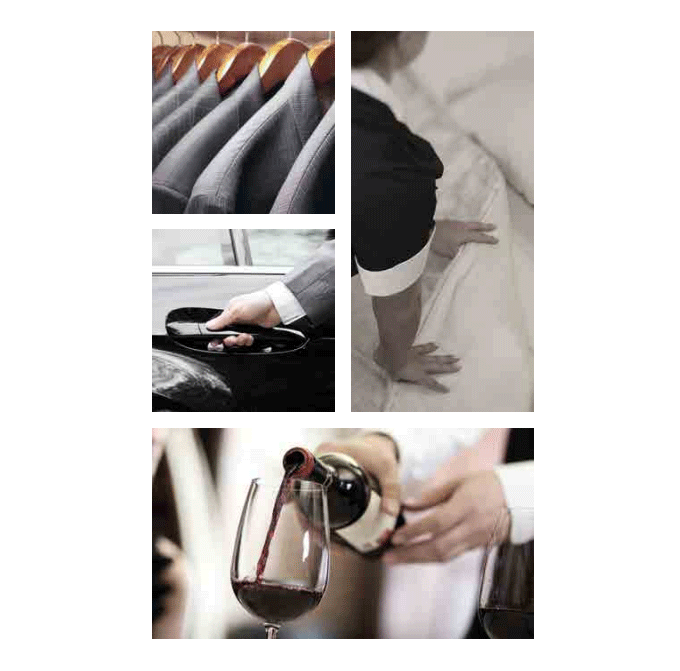 LUXURY BECOMES PERSONAL
Our signature Wallich Concierge Service will cater to the needs of our residents. Managed by GuocoLand's concierge team in partnership with Sofi tel Singapore City Centre, residents can find assistance across a full host of services*.
Standard services include booking of residence amenities and facilities, grocery and luggage handling, and laundry services. The concierge service may also assist with home maintenance, transportation arrangements, housekeeping and entertainment planning.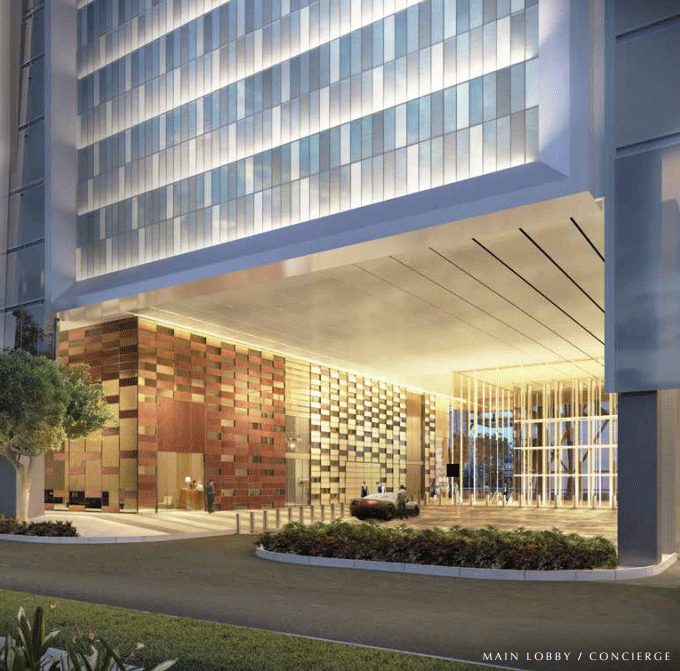 ARRIVE AND STEP INTO A WORLD OF SHOPHISTICATION
With its intimate and luxurious décor, the main lobby is evocative of the world's greatest hotels. Residents can entertain guests and business associates in the comfort of the main lobby lounge with a service bar on hand. Residents can also enjoy direct access to their residences via high-speed elevators that will deliver them to their doorstep in seconds.
---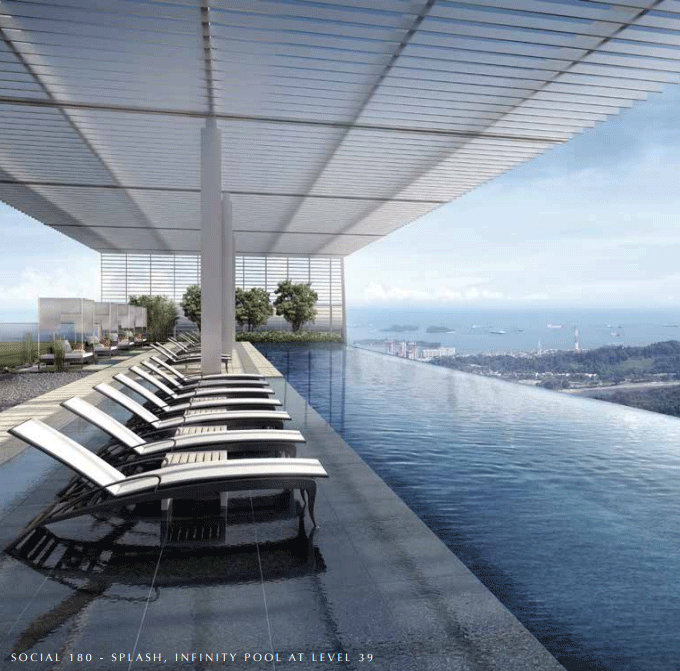 GET SOCIAL 180
Relax and recharge at Social 180, a sanctuary of landscaped gardens, a Jacuzzi and entertainment rooms. Take a dip in our stunning infinity pool, 180m above sea level with breathtaking views of the sea and beyond. Sit back and relax with a book at the luxurious cabanas. Work out in our innovative gym, or simply get together with friends and family over a BBQ or at the casual dining rooms.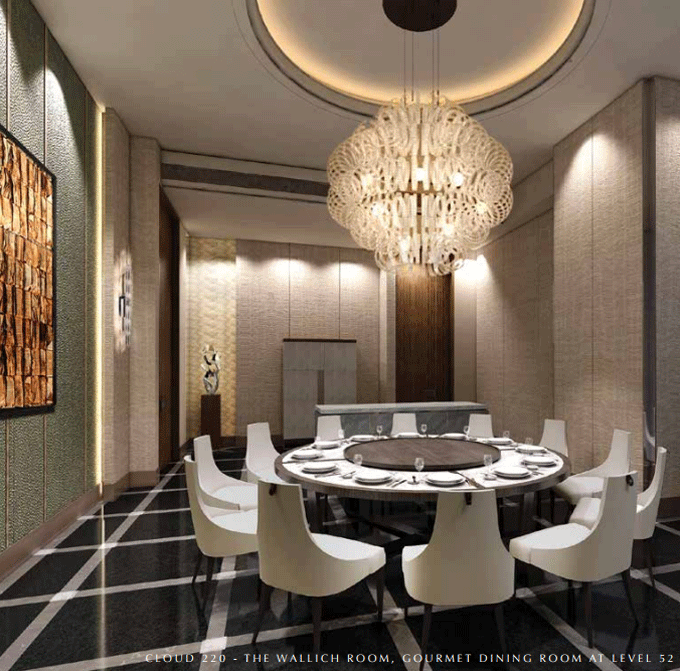 UP ON CLOUD 220
Commemorate life's most memorable moments at Cloud 220. With the city skyline as your backdrop, enjoy an intimate dining experience at The Wallich Room with your private chef to attend to any gastronomic desire. You can also host private screenings at the theatrette. As night falls, wind down the day with drinks amidst the lush greenery of the sky gardens, or simply end the night with quiet moments of introspection at Wallich Residence's library.
---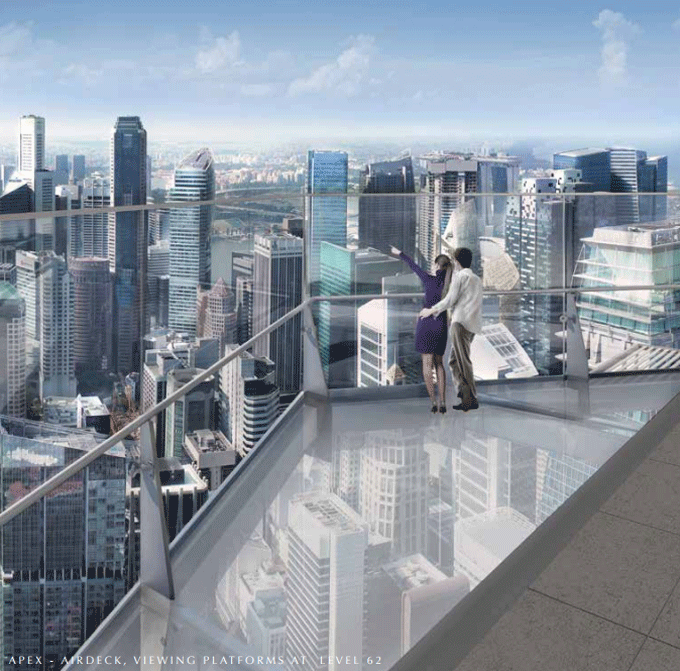 THE APEX OF LIFE
Soaring approximately 270m above sea level on level 62, Apex is the sky observatory that crowns Singapore's tallest building. Enjoy panoramic views from the Airdeck, stunning cantilevered glass viewing platforms. With unsurpassed views of the city, sea and beyond, Apex showcases the city from a completely different perspective.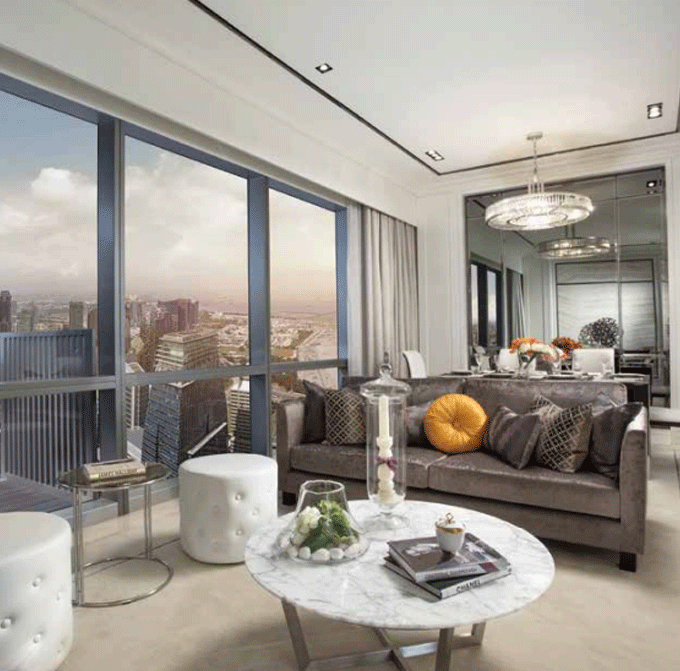 A LIFE WITHOUT COMPROMISE
Attention to detail. A distinctive aesthetic. Every unit at Wallich Residence is impeccably designed and finished. Each residence has also been crafted to maximise the sense of height, volume and space. With its high ceilings and floor-to-ceiling windows that open the world up to you, each home offers a light-filled expanse.
---
The city below the life above
Only four of these exquisite 4-bedroom penthouses exist. Each 3,509 sq ft in size, located from the 58th to 61st floors, and commanding panoramic views from the city, sky to sea. With a high-speed elevator that whisks residents to their doorsteps, it opens up to a private vestibule, allowing them to greet their guests in style. Within the penthouse, each bedroom enjoys an en-suite bathroom, while the master bedroom and junior master bedroom also come with a spacious walk-in closet. Designed for the most discerning, these penthouses set the standard for contemporary luxury living.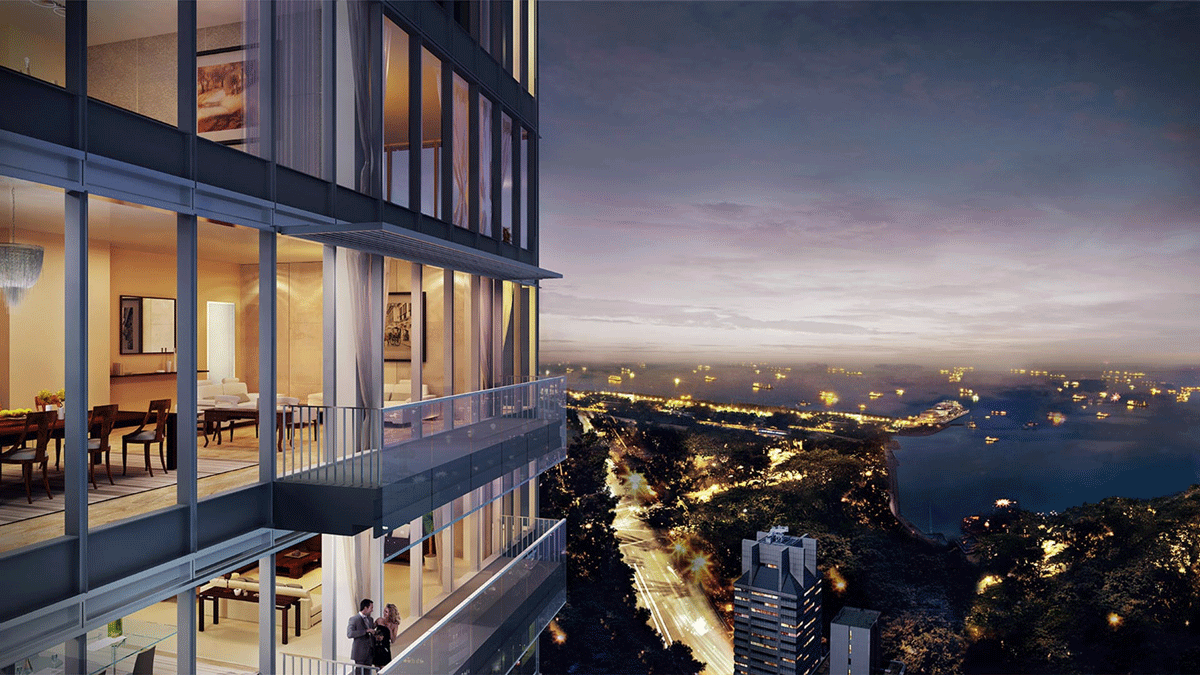 ---