Boulevard Vue Site Plan
LEGEND
1. Gymnasium
Elemental Spa Suite
2. A Foot Spa
2.B Steam Room
2.C Rain Shower
2.D Hot Tub
2.E GHeat Stone Bed
2.F Toilet
3. Changing Room
4. Spa Kitchen
Spa Lounge
Heat Pool
6.A heat Pool
6.B Hydromassage Foot Massage
6.C Hydromassage Lower Back Massage
7. Tranquiling Terrace
Ground Plan
LEGEND
1. Entrance Water Feature
Tropical Grove
2.A Tropical Garden
2.B Lawn
2.C Reflection
Water Court
3.A Reflection Pool
3.B Reflection Terrace
Recreation Pools
4.A 25m Lap Pool
4.B Jacuzzi
5. Changing Room
Outdoor Activity Areas
6.A Fine Dining Pavilion
6.B Family Pavilion
6.C Sunning Deck
6.D Children's Play Area
7. Entrance Lobby
Boulevard Penthouse
#32-01
ROOF TERRACE
1. Lift entrance
2. Swimming Pool
3. Dumbwaiter
4. Garden Terrace
5. Alfresco Dining
6. Lounge Area
7. Bath
8. Roof Kitchen
Boulevard Vue Facilities
An enclave of discreet prestige.
Designed by the most creative minds in the profession, every aspect of Boulevard Vue emanates quiet privilege. It stands apart through its sleek, sculptural profile, distinctive glass-sheathed architecture and magnificent curvilinear "beacon" atrium.
Meticulously landscaped with lush tropical foliage to provide subtle screening, Boulevard Vue offers a peaceful and totally serene environment. In addition, state-of-the-art security systems with multiple levels of security provide residents and their designated guests diplomat-level privacy.
---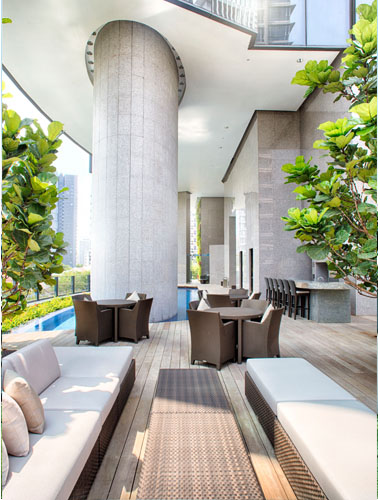 To harmonise one's life through space, my philosophy as a designer includes:
Communication
The creation of space provides a place to share one's values and I would like to create a community where individuals can interact directly — face to face.
Nature
I would like people to be connected to nature. By doing so I believe what warmth will infuse the space.
Creation.
To continue considering the essence of design by constantly returning back to its origins.
(Takashi Sugimoto - Project Consultant)
---
The most exclusive lifestyle of all.
With every possible amenity provided, Boulevard Vue, quite simply, underscores everything that epitomises thoughtful luxury. Smooth efficiency of day-to-day tasks is guaranteed with the residence's e-Concierge services.
Bach Boulevard Vue residence comes with three individual, designated garage spaces — each spacious enough to accommodate a Rolls Royce. The penthouses will have four such garage spaces. An exquisitely detailed water garden sets the tone for the extensive facilities. A 25-metre infinity-edged lap pool and a reflective pond offer indulgent options for relaxation or exercise. A fine dining area with a full bar allows for alfresco entertainment.
It was inconceivable, until now
Boulevard Vue has a simply peerless attention to detail. Even the most discerning of perfectionists will appreciate the way the fittings and finishes have been carefully selected, sourced and matched. In the master bedroom, you will find impeccably crafted Politorm Italian-designed 'his and hers' walk-in wardrobes, complete with a full-fitted master closet with detailed storage spaces and whisper-quiet hydraulic doors.
The adjoining bathroom suite is in effect a six-star personal spa accommodating several separate bathing rituals. The tranquil relaxation of the gentle rain shower and the multi-function sunken Jacuzzi tub overlook magnificent vistas of the cim A professional spa-style natural heated stone slab, a luxurious twin vanity and designer fittings as well as two 'invisible' LCD TV create a perfect personal sanctuary.
---
Everything you want, more than you imagine.
No effort has been spared to ensure that you enjoy a level of personal luxury never before experienced. Every Boulevard Vue residence features a walk-in cold room that provides generous storage space for vintage wines, fine foods and cheese. The entertainment kitchen is an inspiring set piece for intimate gatherings with its centrepiece Poggenpohl island counter, three ovens and integrated barista-standard coffee machine. The fully-fitted Asian kitchen is perfect for preparing traditional cuisine.
The Space your life demand
As a bespoke residence, Boulevard Vue offers unprecedented levels of individual customisation. With a white plan, you have the luxury of creating interior spaces that mirror your personal preferences and taste. Twin private lift lobbies are framed by a vast main entrance, allowing for an impressive sense of arrival. Spacious living spaces with floor-to-ceiling windows, quality marque fittings and finishes sourced from around the world and large balconies mark these homes. Sweeping views of Orchard Road and the Central Business District are a feature of every residence at Boulevard Vue.
Even among an elite community, there are select individuals who require even more. Catering to their needs are Boulevard Vue exquisite penthouses. These masterpieces of fine living offer the most prestigious lifestyle of all with roof terraces that include a private swimming pool, an elegant lounge area and gardens.
---