From elegant balls to a cosy get-together, the serene setting of the Club House is set to impress your party guest. Dive into the 50m Lap Pool and feel the water blanket you in refreshing comfort. Wine and dine the night away at the Lounge Oasis, then burn the excess adrenalin in the Gym. Or simply head to the peaceful Garden Nest and watch the world go by in your own company.
WhiteHaven @ Pasir Pajang Site Plan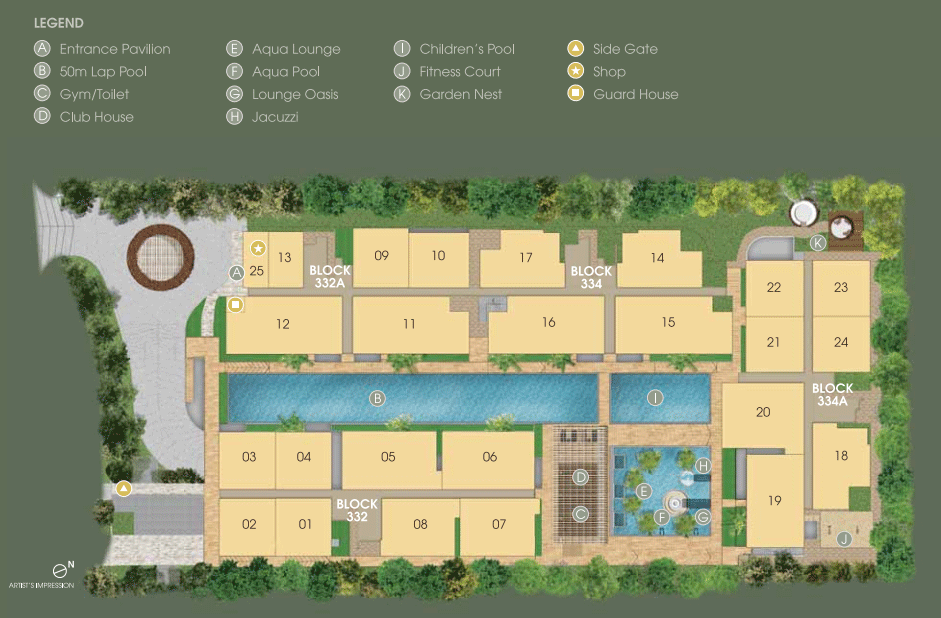 ---
Facilities @ WhiteHaven
Unwind with a dip at the Aqua Lounge. or recharge with a session at the Aqua Pool. Fire up a steaming workout at the Fitness Court. or simply raise your glass and sip champagne in the Jacuzzi. Let your imagination inspire your entertainment.
---
Dual-key Concept: Own Two Homes At Once
Enjoy the comfort and revenue of owning two homes with a single purchase when you get a dual-key unit. Keep both homes for self-indulgences, or live in harmony with other family members without compromising on privacy. For a lucrative investment opportunity, select your preferred home and rent out the other; or rent out both homes to maximize your investment returns.
---
Lavish Penthouses
For those who refuse to accept the ordinary. choose from 24 units of lavish Penthouses. The Penthouses range from 2 and 3-bedroom with Jacuzzi. BBQ Pit, Pavilion and approximately 3.3m floor-to-ceiling height: and 4-bedroom with Dipping Pool, BBQ Pit and Attic with Bedroom. The luxurious 4-bedroom Penthouses are also generously enhanced with approximately 3.3m floor-to-ceiling height on the lower level and floor-to-ceiling height of up to 4.7m on the upper level.
---
Unleash your creativity in the plush high-ceiling abodes. Erect a mezzanine in the increased vertical space, mount shelves for extra storage room or create a gallery showcasing all your paintings and photographs.
16 exclusive units of spacious 4-bedroom dual-key apartments are most suitable for multi-generation families or to increase rental opportunities without compromising your privacy. The inviting ground floor units extend the resort ambiance into your home through your private outdoor area. All ground floor units also come with high floor-to-ceiling height of up to 4.3m with provision for furniture platforms installed for greater space flexibility.
---
Premium Fittings
A highly-respected name in sanitary innovation, stylish yet functional fittings from world-renowned GROHE will add elegance and class to your bathrooms. With a focus on flawless detailing, Whitehaven ensures absolute comfort even at the most Intimate moments.
---