Discover tranquility as you embrace the vast and lush landscaping that perfectly complements the many recreational facilities at The Estella. With facilities such as relaxing outdoor fitness areas, tennis courts and a swimming pool, you can be assured that you will always stay in shape.
The Estella Site Plan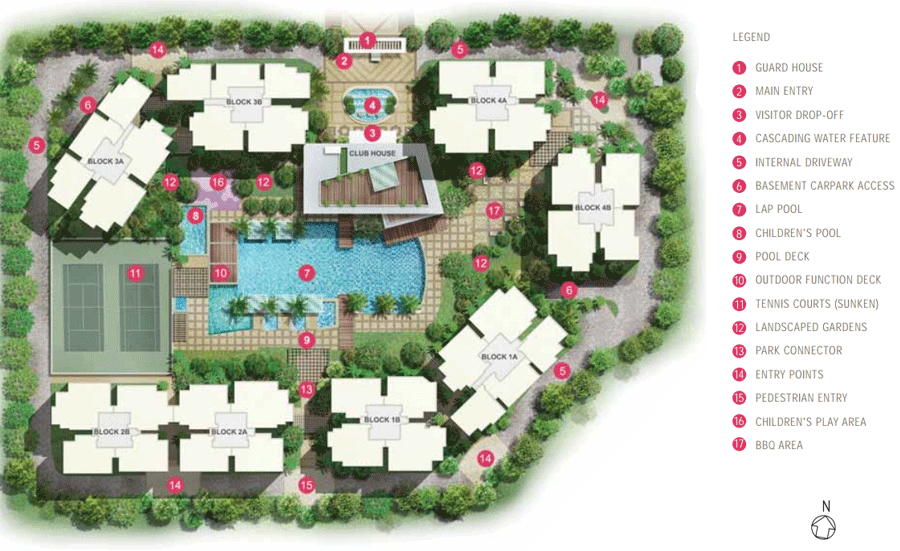 ---
Watch Me Gleam With Relaxation

Enter The Estella to discover a tranquil environment. Let the vast and lush landscaping within The Estella soothes you. Extend your leisurely stroll into the 7-hectare public park right behind The Estella.
Enjoy a playful evening with your children in the big playground or have a delightful conversation with your neighbors over barbecue. Go inside the beautiful clubhouse for a game of billiard. Engross yourself in a love story in the state-of-the-art movie-room. Keep fit in a well-equipped gymnasium then cool down in the relaxing Jacuzzi.
You could get into a competitive spirit with your friends over the tennis or in the 50-metre lap pool. Alternatively, have a quiet workout with your peers in the outdoor fitness area. The Estella affords you a healthy and luxurious lifestyle. Live your dream.
---
Let Me Dazzle Your Senses

The luxurious apartments of The Estella are all entirely fitted with quality finishes and fittings known for their design and functionality. The Estella also offers a selection of impressive apartment layouts ranging from 100 square meters to 260 square meters. The perfect home that you have always wanted awaits you here at The Estella.
---
Facilities Gallery
---
---