Location Map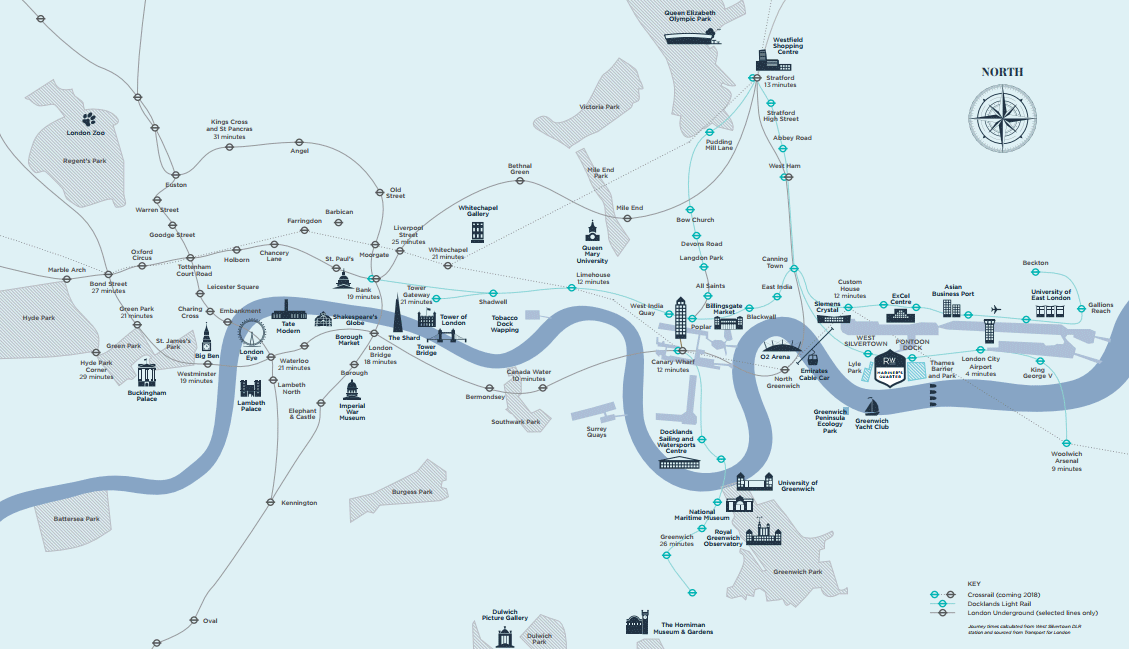 ---
Everyday Esentials to Little Luxuries
A variety of independent stores and bespoke services will add texture and vitality to the whole development
Neighbourhoods are more than collections of homes. They also depend on a strong, varied mix of services and amenities – from a corner shop where you can buy milk and newspapers to restaurants, bars and leisure and fitness services.
Royal Wharf will have everything a thriving village needs. But this will be no bland, generic urban centre. We're creating opportunities for a variety of independent stores and bespoke services that will add texture and vitality to the whole development.
---
Creating an entire neighbourhood from the ground up offers a rare opportunity to shape community shopping and amenities with a genuinely individual character
Our ambition for the high street at Royal Wharf is for it to be filled with independent, interesting shops, run by experts passionate about what they do. Here, among other shops, you'll find a local greengrocer, butcher, bakery and florist – each as individual as the last. This is the real thing: a high street where people get to know each other.
Where you might stop and chat with the shopkeeper as you linger over the latest batch of fresh, quality produce. Where you'll very likely bump into a neighbour, and maybe make time for a coffee at the café up the road. In a place like this, retail becomes so much more than just business – it's an essential glue that helps hold a community together.
---
Shops, Cafés, Bars and Restaurants
Up and down the high street and throughout Royal Wharf, the shops, cafés, bars and restaurants will do more than just serve a need. They'll bring original, authentic personalities to Royal Wharf, adding richness and interest to the whole neighbourhood.
There'll be a good-sized convenience store (perfect to pop into on the way from the DLR station). And at Sovereign Place – the community's central town square – you'll be able to settle down to anything from a fresh morning coffee to a tasty lunch or twilight cocktail. Down near the water's edge, you can expect tempting riverside dining. After all, what could be better on a summer's afternoon than cold drinks by the river? At this point on the Thames, where the river widens to almost a mile across, it's almost like being by the sea.
---
Your Back Yard: The World's Capital
The 2012 Olympic and Paralympic Games were an unqualified triumph. Not only did they electrify the world with London's passion and optimism, they also accelerated the transformation of East London
London is going through an extraordinary phase in its 2,000 year history. It has overtaken New York as the world's financial centre, and in 2014 became the most popular tourist destination on the planet. In the same year, global accountancy firm PWC ranked London the most influential of 30 world cities in its 'Cities of Opportunity' Index.
The 2012 Olympic and Paralympic Games were an unqualified triumph. Not only did they electrify the world with London's passion and optimism, they also accelerated the transformation of East London.
The Olympic Park is now home to Europe's largest urban shopping centre: at almost two million square feet, Westfield Stratford City has around 370 shops and restaurants, including a John Lewis department store, a Waitrose supermarket and a Marks and Spencer. There's also a seventeen-screen cinema.
As well as sport, culture is thriving in the east. North of Canary Wharf, the centres of Shoreditch and Spitalfields are the city's new crucibles of commercial, technological and artistic ventures.
The tech cluster around Old Street has become world-famous as a hive of innovation – helped along by the government's key 'East London Tech City' initiative, backed by names like Google, Facebook and Intel.
---

The Royal Docks Renewed
The Royal Docks themselves are a special focus for investment and opportunity.
In 2010, a vision document by the Mayor of London described the future of the Royal Docks and identified £22 billion of development potential for a new district on the north bank of the Thames.
The huge investment in transport infrastructure, as well as surging demand from Canary Wharf for high-quality housing and business services, means that vision is swiftly becoming reality. And nowhere is the speed of development more obvious than at Royal Wharf.
The momentum is astonishing. From day one, the residents here will feel part of a real and complete neighbourhood. Framed by the O2 Arena and the Thames Barrier, the Royal Docks project is the culmination of one of the world's most extraordinary regeneration projects. A project that began in the 1980s, with the reclamation of the Docklands, and which is now producing a vast new district here in the east of the city.

The Capital, Connected
Today, London really can claim to be the world's capital city. And at Royal Wharf, that remarkable capital is on your doorstep.
The DLR rail line links the site to the Underground network and the whole of the capital. You can be at Bond Street in 20 minutes – and the O2 in a little over five. The Emirates cable car is a wonderful way to cross the Thames, gliding from the Royal Docks to the Greenwich Peninsula in seven minutes. Or why not take to the water on a Thames riverboat? And with London City Airport less than five minutes away by DLR, it's quick and easy to fly all over Europe – or even to New York.
Connections will get even better when Crossrail opens in 2018. Europe's biggest engineering project, this pioneering service will link London and its neighbouring counties to the east and west. From Custom House station, close to Royal Wharf, it'll be just 15 minutes into central London. Even Heathrow airport will be less than 45 minutes away. It's hard to imagine a better time to be part of the story of London. Or a better place to do it than at Royal Wharf.
---
Amenities
SCHOOLS & BUSINESS
University of East Londo
Greenwich University
Asian Business port
Excel Centre
Siemens Crystal
Silvertown Quays
Docklands Sailing and Watersports Centre
RECREATIONAL AMENITIES
Lyle Park
Thames Barrier and Park
Maryon Wilson Animal Park
Greenwich Peninsula Ecology Park
Greenwich Yacht Club
Billingsgate Market
O2 Arena