North Park Residences Site Plan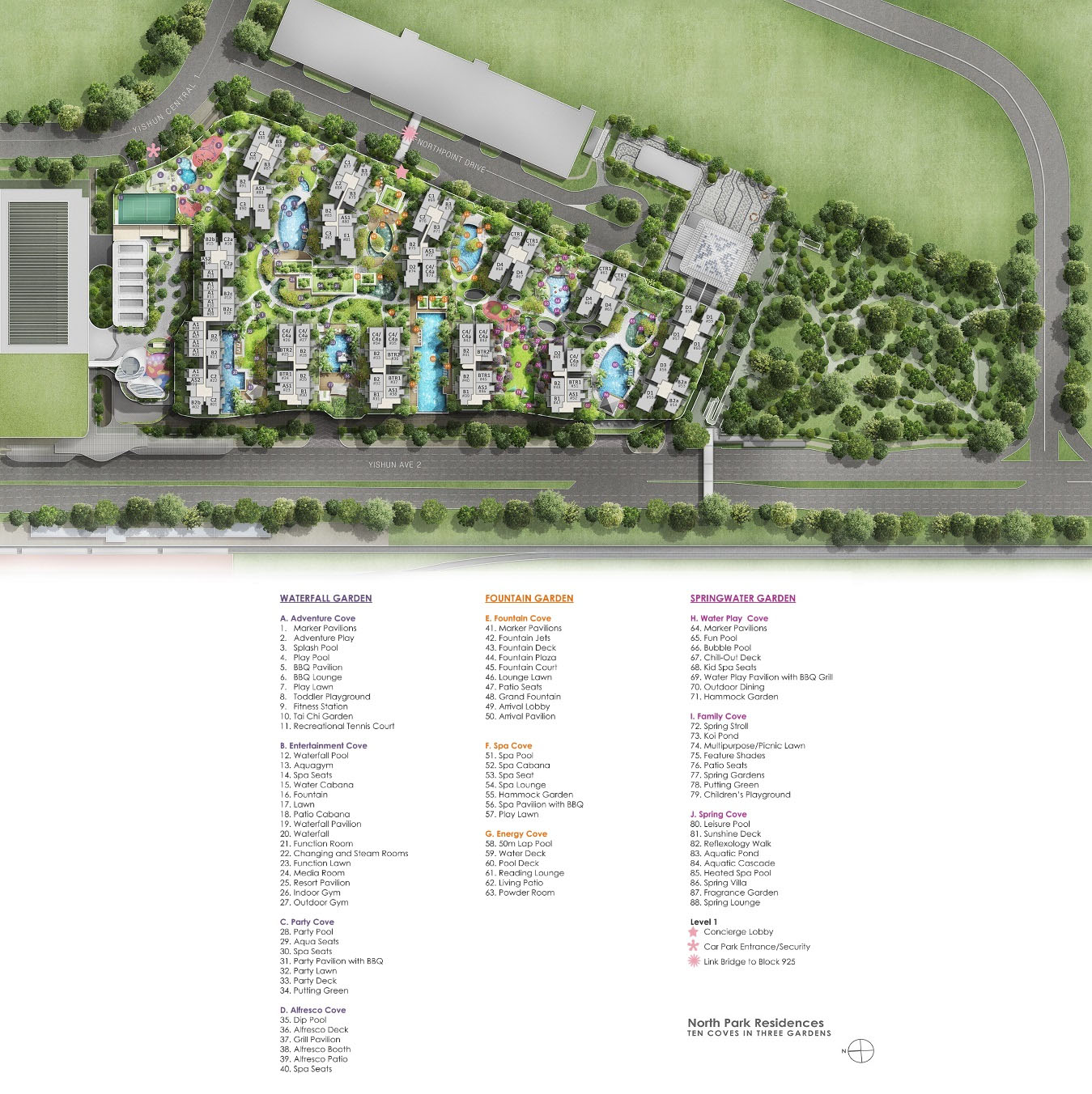 North Park Residences Facilities
Integrated homes in Northpoint City
920 lifestyle homes, from Studio to 5 bedroom units, designed for every family configuration, set within a lush green environment with water features, and filled with an ensemble of dream facilities.
---
My paradise of greens and blues
Nestled within an island of waterfalls, the Function Room with a lawn provides a green private retreat for your special events.
---
Your ultimate resort-like indulgence
Kids can enjoy a fun and innovative playtime at the Adventure Cove, and parents can keep an eye on their kis while having a BBQ session at the nearby BBQ Lounge and Pavilion.
Discover pockets of energising of pampering moments at the Entertainment Cove. Enjoy the refreshing Waterfall Pool, exercise at the Aquagym and soak in therapeutic Spa.
The Party Cove offers an excellent venue for your parties at the Party at The Waterfall cascades outside the Function Room, or treat your friends to a juicy grilled meal at the Grill Pavillion.
---
Waterfall garden
Waterfall Garden. A host of mesmerising experiences that inspire a resort feels with four different Coves for family interaction, pampering moments, partying venues, and alfresco dining opportunities.
---
Your perfect pampering days
Feel right at home at the Fountain Cove, where the gurgling Fountain Plaza provides a soothing and welcoming presence. Relive your memories of luxury holidays at the Spa Cove, where you can indulge in the Spa Cabana, Spa Pool, Swinging Hammock and Spa Seats.
Take fitness to a new level at the Energy Cove with its 50-metre Lap Pool, surrounded by a generous Water Deck and Pool Deck. A Reading Lounge and Living Patio offers residents an expansive view of the impressive pool.
---
Your complete chill-out experience
The Water Play Cove provides ample relaxation space. Enjoy sunny afternoons at the Water Play Pavilion and Pool, or appreciate the serenity of nature in the swaying Hammock Garden.

Weekends are best spent at the Family Cove, where your family will delight in the Picnic Lawn, Koi Pond and a Children's Playground in the Spring Garden.
The Spring Cove features the best ways to unwind. The Spring Cove offers a holistic relaxation experience with its Aquatic Pond and Heated Spa Pool, while the Spring Villa with a waterfront setting and a private Fragrance Garden serves your entertainment needs luxuriously.