Skyrocketing prices, credit score among key issues
.
THE underlying issue of the inability to afford a property among Malaysians lies with skyrocketing prices and buyers' poor credit score.
Because of these many prefer to rent instead, according to PropertyGuru Malaysia.
Affordability is indeed a major issue in the local property industry. Low-to-middle-income earners are facing difficulties in obtaining loans and have no other option but to rent.
There are also married couples with young children who still live with their parents. This is despite the thousands of affordable houses available in the market.
"The government has been on its toes in tackling the housing affordability woes faced by most property seekers. In its manifesto, it (the Pakatan Harapan government) aspires to build one million affordable homes within two terms to help put roofs above many heads," said PropertyGuru.
One of the government initiatives to help those who rent and the Bottom 40 per cent (B40) group earners is the rent-to-own (RTO) scheme.
The RTO scheme may be able to help low-to-middle income earners as it fits their budgetary needs.
In a RTO arrangement, the landlord can be a "landlord-seller" while the tenant a "tenant-buyer". Basically a tenant can rent the property for two to three years with an option to buy it later.
"However, the tenant must make an agreement with the landlord prior to renting the property for this kind of arrangement to avoid any issues later. Some landlords may decide not to sell their property after renting it out for two or three years as they see the value increasing and they want to make a higher profit," said a property consultant.
HOUSES TOO EXPENSIVE
Housing and Local Government Minister Zuraida Kamaruddin said last month that the local market has too many high-end houses.
She said her ministry would study the matter to deal with the situation.
Bank Negara Malaysia said on Factwatch.my in May that houses priced between RM300,000 and RM500,000 are beyond affordable to households earning the median income in Malaysia.
It said the maximum price of an affordable house is RM282,000, given the 2016 median household income of RM5,228, as published in the Statistics Department's Household Income and Expenditure Survey.
Bank Negara was responding to a report quoting the Real Estate and Housing Developers' Association (Rehda) which had categorised affordable houses as in the range of RM300,000 to RM500,000.
Rehda Institute, the training and research arm of Rehda, has recently proposed the RM200,000-RM500,000 range, depending on a property's locality, as threshold prices for affordable housing in Peninsular Malaysia.
For Kuala Lumpur and the Klang Valley, the proposed threshold price is RM500,000, while for Selangor, Penang Island and Johor Baru, it is RM400,000.
The proposed threshold price for Johor, Melaka and Negeri Sembilan is RM350,000; Terengganu, Kedah, Perak, Perlis and Pahang RM250,000; and Kelantan RM200,000.
According to its research report, there hasn't been much demand for affordable housing, with 14,739 units priced below RM500,000 remaining unsold up to the first quarter of this year.
It had identified nine structural problems in the affordable housing system - a fragmented and unlevel playing field; rigid housing policies; unsuitable locations; land price; uneven cross-subsidy; rising development cost; unproductive use of public resources; low financial capacity for B40 and Middle 40 income groups; and absence of housing market data.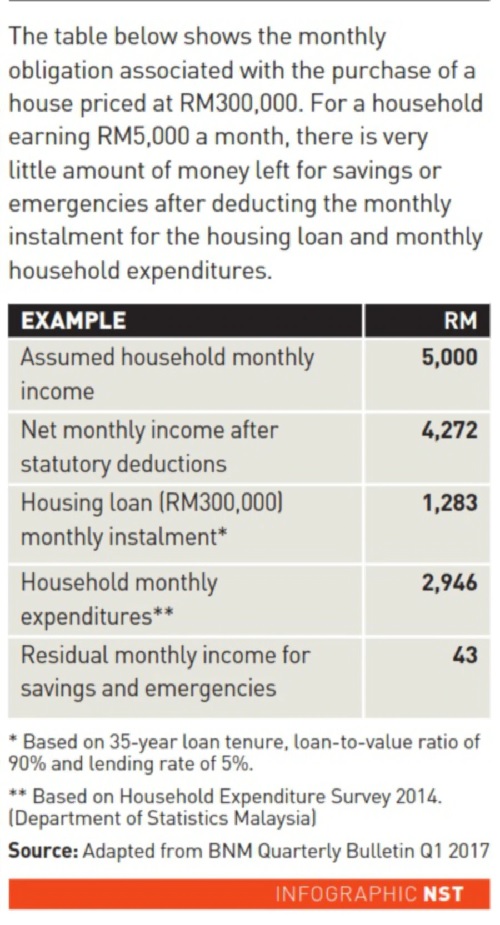 NEW HOUSING POLICIES
The new National Housing Policy 2.0, which is expected to be announced next month, will see several changes taking place to boost the property market.
It will contain elements that will make it easy for people to own a home.
National Housing Department director-general N. Jayaselan said at the Affordable Housing Conference 2018 last month that the new national housing policy would focus on reducing house prices by lowering compliance costs.
The compliance costs include contributions for utilities like Tenaga Nasional Bhd, Syarikat Bekalan Air Selangor Sdn Bhd and Indah Water Konsortium Sdn Bhd, developer charges, land conversion premiums, infrastructure contribution, surrender of land and construction of facilities.
Developers are hopeful that the compliance costs will be reduced once the Sales and Service Tax is reintroduced on September 1.
Adapted by New Straits Times August 23 2018