July 2017 is one of the better months in this RED Hot Year in Real Est
.
Kandis Residence is a brand new residential development in the North Region of Singapore, expected to complete in 2024. In addition, there are many project with advantages about connectivity, amenities. So, the Real Estate Market in Singapore is pick up.
Developers sold almost twice as many private homes and executive condominiums (ECs) in July than they did in June amid two project launches - reflecting a buoyant buying momentum that analysts believe will continue for the rest of this year and the next.
A total of 2,086 units were sold by developers here last month, up from 1,064 units in the traditionally slow month of June and 8 per cent more than in July last year.
Particularly strong sales momentum was seen in the ECs, which marked the highest monthly sale of 978 units - four times that in June and 17 per cent more than a year ago.
This was bolstered by the sell-out of Hundred Palms Residences, an EC project in Yio Chu Kang Road by Hoi Hup Realty; all 531 units were sold within seven hours of its launch on July 22.
Excluding ECs, developers sold 1,108 private residential units in July, a 35 per cent increase from June and marginally (1.5 per cent) more than in July last year. Slightly more than half the July sales were in the suburban region.
These figures came from the Urban Redevelopment Authority on Tuesday, derived from a survey of licensed developers.
July's stellar showing brings the new private home sales in the first seven months of this year to 7,147 units, already touching the 7,000-8,000 range of average annual new home sales from 2014 to 2016.
Potential buyers have likely come to terms with the prevailing cooling measures and have been prompted to act on news that a possible uptick in pricing is looming.
But such an uptick would come only as a result of recent aggressive land-bidding patterns by developers, market watchers noted.
ERA Realty key executive officer Eugene Lim said that as the recent uptrend in land prices suggests higher prices for new projects next year, many buyers are deciding to commit to a purchase now rather than later.
"Coupled with the shorter holding period of three years under the revised seller's stamp duty rules, this has made projects under construction a very attractive option to home buyers," he said.
---
---
He noticed that more developers are starting to launch units in phases to capitalise on future upside. These include Park Place Residences at Paya Lebar Quarter, Martin Modern and Le Quest.
Martin Modern in district 9, by Singapore-listed GuocoLand, sold 109 units at a median price of S$2,152 per square foot; the developer is said to be moderating the releases to capture future price upside.
Kandis Residence is a short distance to Sembawang MRT station also access easily to Canberra MRT station, the condo comprises 130 units will launch soon.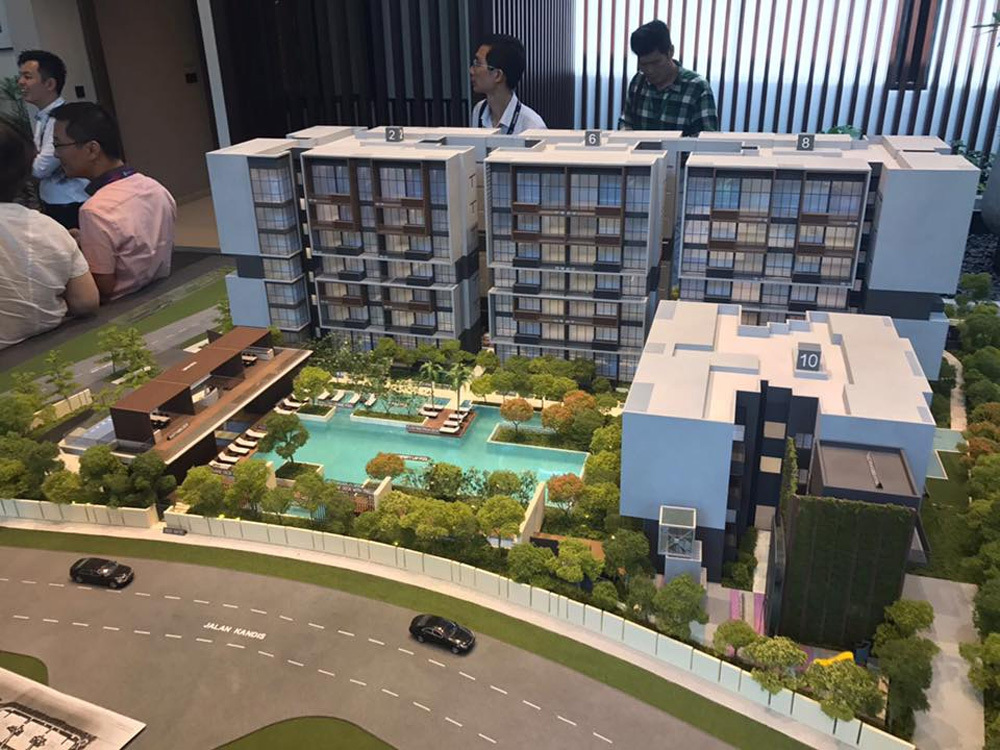 The improved buying momentum in the residential property market is likely to continue in the coming months and into 2018, as confidence returns to the market.
At the pace of the current primary residential market sales, developers could sell between 12,000 and 14,000 new private homes this year but there could be a possible shortage of EC units for sale, given that there is only one EC project in the pipeline.
The EC project in Anchorvale Lane by Hoi Hup Realty-Sunway Developments, with between 640 and 650 units, is more likely to be launched next year, after the mandatory 15-month waiting period for the sales to begin.
At the current rate of sales, the developers' inventory of launched and unsold EC units would be exhausted before Christmas if there are no new launches. July's sales brought the developers' stock of launched and unsold units to a six-year low. But only a handful of new condominium projects are lined up for launch in the next six months.
Upcoming property launches include New Futura, a freehold high-end residence with 124 units by City Developments Ltd
Kandis Residence, a 130-unit condominium off Sembawang Road by Tuan Sing Holdings, and the 600-unit project at Fernvale Road by Sing Development and Wee Hur Development.
Good sales volumes, even at existing launches, suggest that market demand remains broad-based, raising the possibility of an impending stabilisation in prices.
MCC Land sold another 82 units at The Santorini in Tampines at a median S$1,039 psf, bringing the number of unsold units in the 597-unit project down to nine. EL Development moved another 73 units at Symphony Suites at a median S$1,035 psf.
With the cooling measures expected to stay put, Mr Wong said the market is expected to remain quantum-sensitive and developers are expected to lean towards a unit mix that favours smaller unit sizes to match the market's current levels of affordability.
Adapted from: The Business Times, 16 August 2017
Kandis Residence has beautiful show suit and quiet surrounding. Take a look at floor plans and facilities to get more information
---
---