Despite sluggish market, Kingsford Waterbay & The Panorama are the Top
.
Developers sold 301 private homes in February, 6.8% lower compared to 323 units sold in January or 23% y-o-y decline.
The 301 private homes (excluding executive condominiums) that developers moved last month represented a 6.8 per cent fall month on month and a 22. 8 per cent fall year on year.
It was also the lowest in the 14 months since the 230-unit figure in December 2014.
This was not surprising, as developers generally held off releasing new projects last month, due to the Chinese New Year festivities and overall weak sentiment amid the continued volatility in the stock market.
Apart from 183 Longhaus which launched 20 units for the first time, all the new launches in January came from existing projects such as The Trilinq (70 units), Principal Garden (50 units), Sims Urban Oasis (50 units), Symphony Suites (10 units) and Leedon Residence (4 units). Developers launched 209 private homes in February, up 31.4% from 159 units in January.
But market watchers, including JLL national director Ong Teck Hui, said these projects did well because of their attractive attributes, location and pricing - rather than because of a market recovery.
More launches are expected from next month. E-applications for Qingjian Realty's 632-unit EC project in Sembawang, The Visionaire, are scheduled to begin on April 8.
Sustained Land is slated to roll out a 305-unit condo, Sturdee Residences, in Jalan Besar, in April.
OrangeTee.com senior manager Wong Xian Yang predicts that developers will move between 500 and 800 private homes this month, taking the tally for the first quarter of this year to between 1,124 and 1,424 units - similar to the 1,311 units moved in Q1 last year.
However, plans by Evia Real Estate, Gamuda and Maxdin to launch their 578-unit condo along Lorong 5 Toa Payoh, originally slated for late March, have been delayed following two rejections by the authorities of the proposed name for the project, said Evia Real Estate managing director Vincent Ong. "We are now targeting to launch this project just before the June school holidays, or in July."
The market is also awaiting news of the launch of Cheung Kong's Stars of Kovan, a development of nearly 400 units.
Urban Redevelopment Authority data released on Tuesday showed that only one new private residential project was launched last month. This was 183 Longhaus, a 40-unit development along Upper Thomson Road, which sold 11 of the 20 released units at a median price of S$1,659 per square foot (psf).
Given the paucity of new launches, February's "best-selling" private residential projects were Kingsford Waterbay along Upper Serangoon View and The Panorama in Ang Mo Kio. Both were launched some time ago and moved just 18 units each last month; the median price for Kingsford Waterbay was S$1,127 psf, and for The Panorama, S$1,211 psf.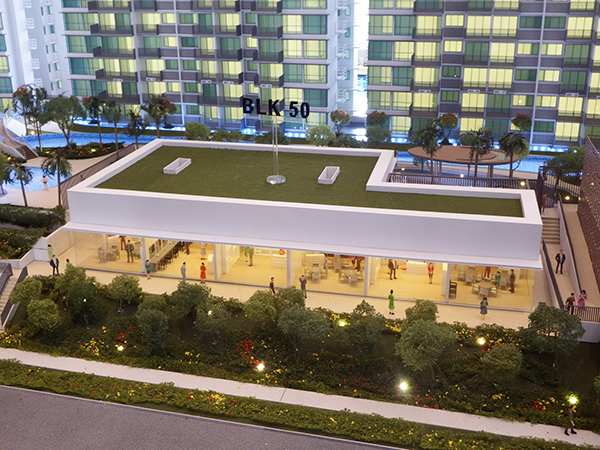 UOL Group found buyers for 16 units at Principal Garden along Prince Charles Crescent; the median price there was S$1,612 psf.
No new projects were launched among ECs, the public-private housing hybrid, last month. Neither were new units released in existing EC projects. Still, developers of existing projects on the market managed to find buyers for 129 EC units, though this was a 17.3 per cent drop from the 156 such units developers moved in January. February's top-selling EC was The Terrace in Punggol (23 units sold at a S$782 psf median price) and The Vales in Sengkang (17 units at a median price of S$798 psf).
TOP SELLING PROJECTS IN FEBRUARY 2016


Desmond Sim, head of Singapore and South-east Asia at CBRE Research, described the 129-unit EC sales in February as encouraging, given that four consecutive months have passed without launches of EC units. "At this pace, the market should see a steady reduction of the unsold inventory . . .," he added.
JLL's Mr Ong's forecast for this year is 7,500 to 8,500 units. "Lower prices are likely to draw buyers into the market, but the number of units developers sell would depend on how buyers' sentiments are affected by the economic slowdown," he added.
PropNex Realty chief executive Ismail Gafoor puts the figure at around 8,000 units. "Given challenging market conditions, upcoming new projects will likely be more competitively priced." For the year, Mr Wong of OrangeTee.com expects developers to sell 6,000 to 7,000 private homes (excluding ECs) - down from the 7,440 units last year.
At the same time, developers will also be adjusting their pricing strategy to move units in their projects which are already on the market - as has been borne out by all five best-selling projects in February being previously launched, he added.
SLP International executive director Nicholas Mak, who expects the full-year number to be nearly 7,000 units, said that developers' inventory of launched-but-unsold private housing units fell steadily from 7,549 units in April 2015 to 6,002 units last month. "Developers have been selling more units than they have been releasing; the reduction in the number of units launched is due not just to weak sentiment but a gradual slowdown in the Government Land Sales Programme, which is leading to fewer new projects available for launch."