LakeLife EC at Yuan Ching Road is located in District 22 in Jurong Lake area, a major regional centre of Singapore. This residential development provides an attractive location for commercial developments outside City Centre and a lakeside destination for business and leisure.
Lake Life EC Location Map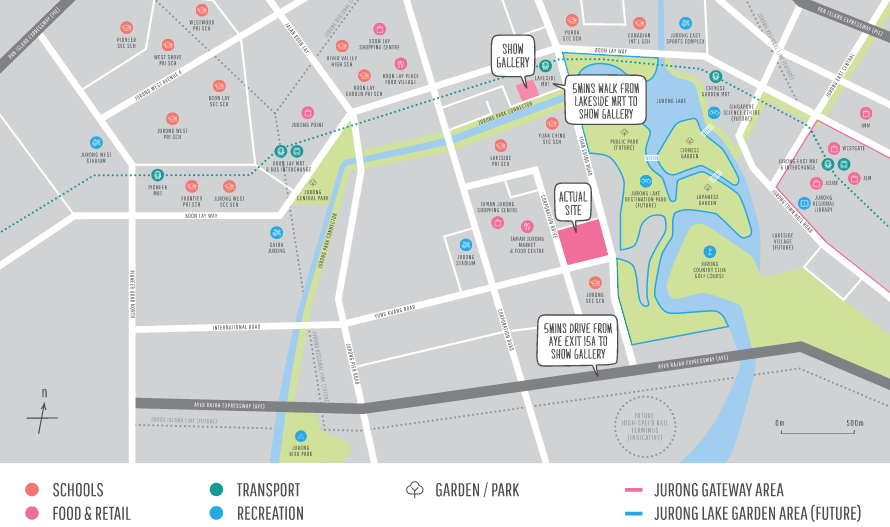 The strategic location of Lakelife EC ensures that future residents can easily find everything within their reach, work, shopping & dining, recreation, healthcare and schools. Jurong Gateway, which is only a 10 minutes drive away, will be developed into the biggest commercial hub outside Central Business District (CBD).
---
Lake Life EC - Everything is at your doorsteps!
There is no need to hurry up in getting to school or work because Lake Life EC is just 1.4 kilometres away from the Lakeside East West Line Station! Also, the project is served by bus stations. Expressways close by including Ayer Rajah Expressway and Pan Island Expressway!
A wide variety of retails, dining and entertainment facilities can be found at the nearby Jurong Point, IMM Shopping Mall, Westgate, JEM, Jcube, Boon Lay Shopping Centre, Chinese Garden, Fairway Country Club, Japanese Garden, Jurong Archery Club, Bird Park, Singapore Sports Centre, Science Center, Snow City, Superbowl, Taman Jurong Shopping Centre and Taman Jurong Market/Food Centre.
There will also be a new world class Science Centre Singapore, to provide families with young children opportunities to play and learn at Lake Life EC. Healthcare needs can be fulfilled at the Jurong General Hospital and Community Hospital. There are plenty of schools in the Lake Life EC close proximity like Shu Qun Primary School, River Valley High School, Rulang Primary School, Nanyang Technological University (NTU) and even international schools like Canadian International School.
Amenities Near Lake Life Condo
MRT & EXPRESSWAY
Lakeside MRT Station (EW26)
Pan-Island Expressway (PIE)
Ayer Rajah Expressway (AYE)
SHOPPING MALLS
Taman Jurong Shopping Centre
JCube
Boon Lay Shopping Centre
Taman Jurong Market and Food Centre
SCHOOLS
Yuvabharathi International School
Canadian International School
Lakeside Primary School
Boon Lay Garden Primary School
Rulang Primary School
Shuqun Primary School
Jurong Secondary School
River Valley High School
Shuqun Secondary School
Yuhua Secondary School
Hua Yi Secondary School
St. Anthony's Primary School
LIFESTYLE
Jurong Stadium
Jurong Archery Club
Singapore Sports Centre
Snow City
Jurong Bird Park
Jurong Lake Park
Chinese Garden
Japanese Garden
Superbowl Jurong
Fairway Club