Celester Rise Site Plan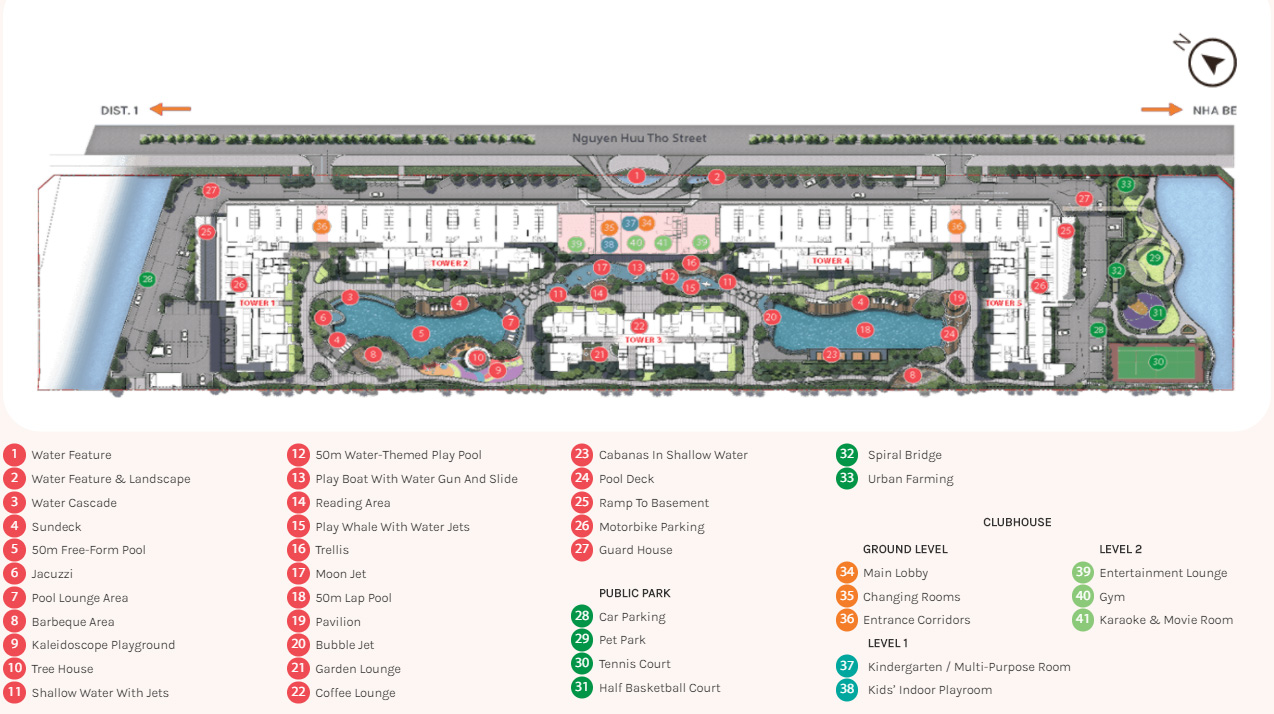 1 Water feature

2 Water feature & landscape

3 Water cascade

4 Sundeck

5 50m free-form pool

6 Jacuzzi

7 Pool lounge area

8 Barbeque area

9 Kaleidoscope playground

10 Tree house

11 Shallow water with jets
12 50m water-themed play pool

13 Play Boat with Water Gun and Slide

14 Reading area

15 Play Whale with Water Jets

16 Trellis

17 Moon Jet

18 50m Lap pool

19 Pavilion

20 Bubble jet

21 Garden lounge

22 Coffee lounge
23 Cabanas in shallow water

24 Pool deck

25 Ramp to basement

26 Motorbike parking

27 Guard house

PUBLIC PARK

28 Car parking

29 Pet park

30 Tennis court

31 Half basketball court

32 Spiral bridge

33 Urban farming
CLUBHOUSE
GROUND LEVEL

34 Main lobby

35 Changing rooms

36 Entrance corridors
LEVEL 2

39 Entertainment lounge

40 Gym

41 Karaoke & Movie room
LEVEL 1

37 Kindergarten / Multi-purpose room

38 Kids' indoor playroom
---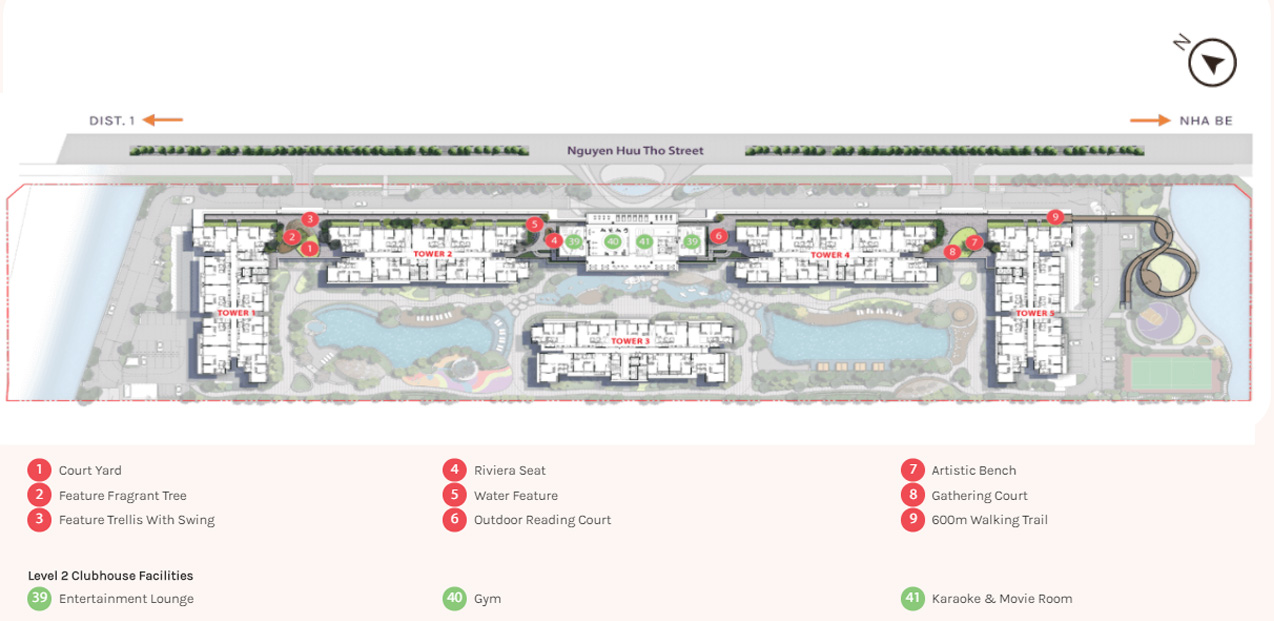 ---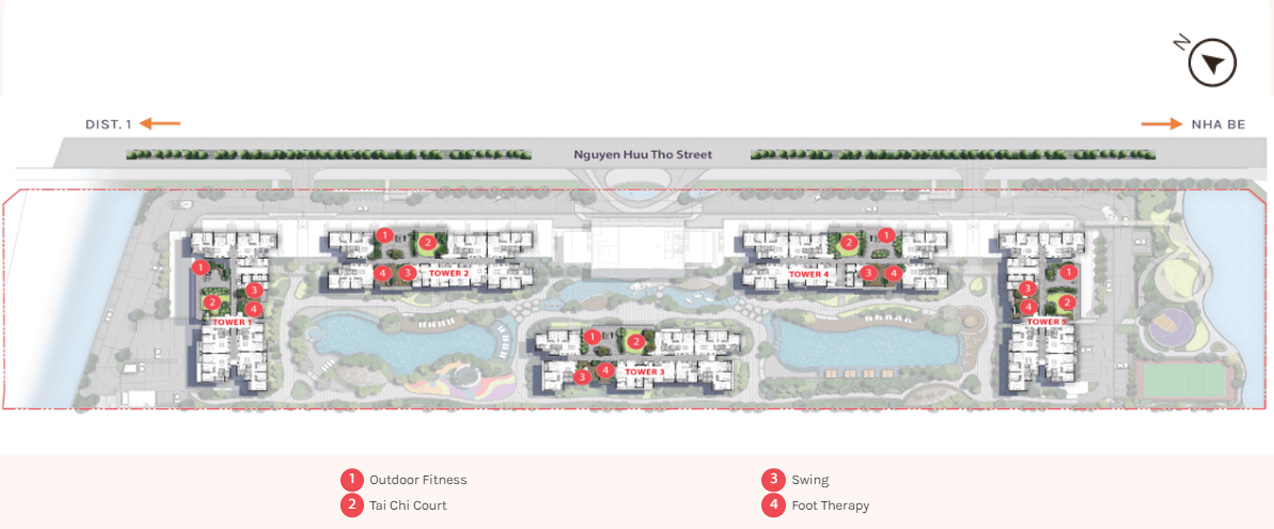 ---
Celester Rise Facilities
Where Life Begins Anew
Inspired by the early hours that mark the break of dawn, Celesta Rise symbolizes the start of something new, a fresh start where you can bask in the warmth of the sun. Arise to a new day, every day, at Celesta Rise.

Specially Made for Life's Precious Moments
Celesta Rise is a 2.8-hectare development located within the Celesta development, a 6.2-hectare masterplan in Saigon South. The Celesta masterplan will be developed in phases, with Celesta Rise a s the first phase — comprising 923 premium apartment units with a diverse range of facilities for all ages. The second and third phases are a mere stone's throw away from Celesta Rise and will be developed soon. Celesta is a destination that celebrates the luxuries of life, where special moments are cherished through generations.

Where Magical Moments Come Alive
Like the rising sun, Celesta Rise brings new inspiration to your everyday life, surrounded by the serenity of nature and the luxuries of urban living. With a total of 923 units spread across 5 towers, nestle into new beginnings and the warmth of home at Celesta Rise.
---

Seize the Morning at the 50m Lap Pool
Start your day with an invigorating swim at the Olympic-length lap pool. Relax by the lavish cabanas and gaze upon verdant greenery a s you soak in your daily dose of morning sun.
---

Precious Family Moments at the 50m Water-themed PlayPool
Fun is in store for the whole family —the kids' pool is fitted with features for members of all ages! Have a splashing good time with water jets, water guns, and even a slide down the play boat.

Where the Young Can Run and Play
Enjoy the happy laughter that fills the air a s you run and play with your little ones in thoughtfully curated play spaces. Let their imagination run wild at the playground and treehouse a s they embark on exciting adventures of their own.
---

Vibrant Spaces for Family Bonding
Step into the vibrant spaces of the Celesta Rise Clubhouse. Explore a lush sanctuary and luxuriate in serenity within the curated facilities, providing entertainment suitable for every age.

Live It Up at the Deluxe Clubhouse, the Biggest Ever in Saigon South
Spanning over three stories with a total area of 1,440m2, this exclusive clubhouse has everything you need and more. Complete with premium equipment and well-thought-out spaces that cater to a myriad of activities, the Deluxe Clubhouse provides a recreational haven for those who seek an active lifestyle.
---

Fitted and Furnished for a Warm Welcome Home
A modern twist to the comforts of home. Choose between a fully fitted living space, or opt for a bare unit to create your idealsanctuary.